Tanger Métropole 2013-2017, un sacré projet lancé par le Roi Mohammed VI il y a déjà quelques années avec la construction du Port Tanger Med et la création de l'usine Renault-Nissan de Melloussa. La réhabilitation du nouveau port de Tanger Ville avec sa marina. Le déplacement du port de pêche de Tanger son agrandissement et sa modernisation. La construction de la route côtière… Un film de 3'43 » résume bien l'ampleur de ce projet qui prend formes à vue d'oeil et qui va faire de Tanger la véritable deuxième ville du Maroc.

Pour avoir un peu plus de précisions sur ce vaste plan de modernisation de Tanger  vous pouvez vous reporter au texte en anglais ci-dessous…
Tangier- King Mohammed VI launched  the Tangier-Metropolis program for the city's integrated, balanced and inclusive development.
The Tangier-Metropolis program was elaborated to be an unprecedented urban model in Morocco and in the southern shore of the Mediterranean.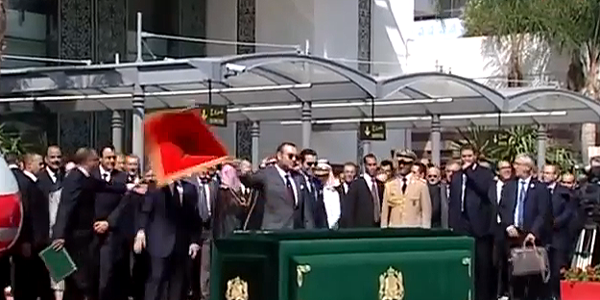 The development plan will span five years (2013-2017) and is totaling 7.663 billion dirhams of investment.
A strategic gateway to Europe, Africa, America and Asia, Tangier is draining investments on the back of its industrial assets which enabled the construction of the Tangier-Med port and attracted Renault-Nissan and Maersk to gain a foothold in Morocco.
The program will step up the city's development and turn Tangier into a hot destination. Based on an innovative approach in terms of integration and coherence of public interventions, this ambitious program takes account of some basic elements namely the urban environment to improve living conditions, the social environment to enhance the human potential, the economic environment to foster the city's asset and know-how, the cultural environment to reinforce the city's identity, openness and heritage and the religious environment to give religious practice its right place in society.
On the urban environment, new access roads will be built to ease the city's congestion as well as a ring road to link the Atlantic to the Mediterranean. For an efficient space and economic reorganization, all community services generating road traffic will be moved in the suburbs which will free more lands.
The Tangier-Metropolis program provides for a third highway, a coastal one, making provincial roads into a dual carriageway, building bypasses as the one linking the Atlantic to the Mediterranean « Rocade des deux Mers », the generalization of roads in neighborhoods, and building underground parking lots in addition to an Atlantic coastal road « Rocade Océanique ».
Cleaning up the polluted coast from the Cap Malabata to Assilah through Cap Spartel on 65 km is also provided for. Tributary streams across the city will be also cleaned up.
The Tangier coast road will be completely redeveloped and several parks will be set up.
Concerning the social environment, 25 new schools and 21 daycares will be built, four schools will be extended and 166 prefabricated classrooms will be converted into permanent structures. All schools will be supplied with drinking water and electricity.
As for health, 4 new community clinics will be set up and 6 health centers will be redeveloped, in addition to the Mohammed V hospital which will be revamped. An emergency unit and a multi-purpose health center will be constructed.
Concerning sports, the King gave his orders to build a city of sports over 60 hectares according to international standards. It will host an Olympic pool, a tennis complex, three multidisciplinary indoors halls, 6 football fields and other fields for basket-ball and volley-ball and a pétanque field. The sports city will include a hotel, a sports clinic and a mall for sport items.
Centers for youth and women's empowerment will be set up.
For the economic environment, an industrial stock will be built south of the city near the highway interchange. Community-based equipment will be transferred outside the city to offers citizens rapid and good functional services.
Noisy economic activities will be put in specific-activity areas and health conditions will be improved.
Community-based markets will be constructed and restored to provide room for door-to-door salesmen.
The project includes also a tourism aspect as it provided for protecting and upgrading existing sites.
Concerning the cultural dimension, a large-scale project launched by HM the King will concern the rehabilitation of Tangier's heritage mainly the Hercules cave and the Rmilate garden. It also involves the creation of new facilities as the Palace of arts and cultures and a theatre.
As for the religious environment, 11 new mosques will be built and seven will be refurbished.
On this occasion, HM the King chaired the signing ceremony of an agreement on the 2013-2017 Tangier-Metropolis program.
The program was signed notably by state minister Abdellah Baha for the Energy ministry, Interior minister Mohand Laenser, Islamic Affairs minister Ahmed Toufiq, Housing minister Nabil Benabdellah, Agriculture minister Aziz Akhannouch, Interim Economy minister, Education minister Mohamed Louafa, Youth minister Mohamed Ouzzine, Transport Minister Aziz Rebbah, Health minister El Hossaine Louardi, Industry minister Abdelkader Amara, and Culture minister Mohammed Amine Sbihi.