Aïch Bengio a rencontré Matt Gross à Tanger par une belle fin d'après midi à d'été sur la terrasse du Salon Bleu à La Kasbah …
Matt, journaliste au New York Times, avait pour sujet d'article : « Se perdre à Tanger » …
Nous sommes plusieurs à avoir noué des liens d'amitié avec lui et à l'avoir accompagné dans ses dérives…
Voici l'article qu'il a fait paraître dans le « New York Times » du 9 septembre dernier …
Lost in Tangier
Matt Gross for « The New York Times »
At midday in July, the Tangier medina was a ghost town. With shadows reduced to slivers, even in the narrowest of the ochre alleyways, residents retreated to lunch behind thick wooden doors or to relax inside their antique silver shops. It was hot and still, despite the occasional breeze from the Mediterranean, and only fools dared venture out — fools, that is, like me.
Not only was I outside, but I was also moving quickly in the sun, turning corners and following curves without thinking. Instinctively, I took a left at the Cafe Centrale, for decades one of the city's prime people-watching spots, feeling closer to my goal. Maybe it lay up those jagged stairs, or past that unfamiliar mosque or through that arch where the hooded woman was filling a bucket of water from a pump, but it was close. I could tell because I didn't recognize anything — it was all new.
At last, I reached the top of a final set of stairs, looked around and understood: I'd been here before. There was that same hole-in-the-wall grocery store selling disks of bread, and across from it the old men with wire-frame spectacles sitting on the bench, and beyond them the micro-neighborhood where every child kicking a soccer ball had smilingly mimed the motion of a key in a lock to let me know the area was fermé (closed), every street a dead end. I sighed, starting to sweat. I knew exactly where I was. And I'd failed, for the zillionth time in the last few days, to get lost.
To some of you, that may sound like a strange mission. But the simple fact is, I haven't been lost since my first trip abroad, almost 30 years ago. It happened during a fireworks show at Tivoli, the grand amusement park in downtown Copenhagen. In the excitement I broke away from my father, and when the explosions died down and the crowd dispersed, I realized that I didn't know where he was and, worse, I didn't know where I was. And with my blond hair and blue eyes, I was indistinguishable from a typical Danish child. I blended in. I was lost.
Since then, I've developed a good sense of direction. I'm not unerring (just ask my wife), but I never lose track of how to get back to where I started. A sense of direction is something you can't turn off. Every detail, from the angle of the sun to the direction of the wind, contributes to a mental map that your brain builds subconsciously. It's like learning to read: Once you know how, you can't not do it.
Which is why I've lately been wondering, how does it feel truly not to know where you are? Are the guidebooks, GPS devices and Internet forums pointing us in the wrong direction? In our efforts to figure out where we're going, have we lost something more important?
Hence this new series, "Getting Lost," in which every few months I will try to lose my way all over the globe, from developing-world megalopolises to European capitals, from American sprawl to Asian archipelagos. (For the moment, I'll avoid deep wilderness and deserts; I want to survive.) It's a challenge that requires special preparation — that is, nonpreparation. In the past, I've researched destinations to death, zooming deep into Google Maps and uncovering unusual restaurants in the darkest corners of the Web. Now I am avoiding maps. I am shying away from Chowhound and Lonely Planet's Thorn Tree forum; I will not ask my Facebook friends who they know in Moscow or Addis Ababa.
I am, in short, trying to break free of the constraints of modern travel, of a culture in which every minute is rigorously planned, and we grade destinations based on how they live up to our expectations. I want to have no expectations. I plan to show up with neither hotel reservation nor guidebook; instead of devising my own itinerary, I will let the place itself guide me, and in doing so, I will, I hope, find myself caught up in moments I never could have imagined.
I can't emphasize enough how unnatural this feels. For five years, I've been a full-time travel writer, and now I'm letting go of the strategies, the to-do lists and trend-seeking that defined where and how I traveled.
TANGIER seemed a good starting point. Not only does it have a magnificent medina that holds out the promise of geographical bafflement, but it is itself also lost in time and space. Since antiquity, Tangier — at the mouth of the Mediterranean, roughly nine miles from Spain — has been a gray zone between Africa and Europe, never quite belonging fully to one or the other, though controlled, for greater or lesser spells, by Carthaginian, Roman, British, Spanish, Portuguese, French and Arab forces.
Today, Tangier is known in America thanks in no small part to Paul Bowles, the novelist and composer who settled there in 1947, and the Beat Generation who followed him in search of cheap, exotic living (and, as William S. Burroughs said, "for the boys and the hashish"). For a few decades, Tangier was a playground for the wealthy and the literary-minded, but by the 1980s it was crumbling and dismal. When I told a friend who had visited in 1998 that I would be there more than a week, he was appalled.
But what could be more appealing to an aspiring lostie than this messy nowhere, with a fading highbrow aura and no clear future? As Edith Wharton wrote in 1918, when she too came to Morocco without a guidebook (none existed), it was "a sensation to rouse the hunger of the repletest sight-seer."
Arriving in Tangier, my first afternoon, I saw my friend's concern was misplaced: This was a city with direction. On its outskirts, huge apartment blocks were going up, financed by Qatari investment firms. "There is no economic crisis here," my taxi driver said.
Closer in, green parks lined the streets, and men and women (some in Western dress, others in pointy-hooded djellabas) sought shade under palm trees. Then came a modern city center of right angles and perfect sidewalks, with signs pointing to Tanger-Med, a shipping port championed by King Mohammed VI, who took the throne in 1999 and decided to revitalize the region, returning Tangier to its status as an economic and cultural gateway to the West.
But modernity — gridlike and navigable — was not what I needed. Instead, I had the taxi drop me near the old passenger port at the bottom of the medina, that ancient and befuddling labyrinth that offered me the long-denied opportunity to indulge in one of my two favorite travel activities: wandering aimlessly. (We'll get to the other soon.) Now, aimless wandering is not as easy as it sounds. Subtle desires tend to direct you: Do I really want to climb those crumbly stairs to a likely dead-end? Is that street, with its shawarma stands and vendors of soccer jerseys, too touristy? And so aimlessness often becomes less spontaneous.
My solution: submission. Left across that courtyard, or right along that cobbled path? Don't ask me; ask my feet. Every day I surrendered to the whims of my limbs, and was presented with a montage of medina moments: the interplay of geometries, the soft arches and domes sliced by rigid shadows; a small plaza where, in the afternoons, birds sang in a monumental cage; a blind man in his prayer cap sitting by a stucco wall; children in knock-off Crocs; a man polishing bronze urns in the vibrantly tiled lobby of an old pension.
"What are you looking for? Where are you going?" guides asked in English, French and Spanish. "You want the Casbah? Hashish?" I ignored them, fended them off with a no, humored them, told them everything but the truth — that it wasn't entirely my decision.
The medina had a strange kind of density. The buildings huddled close together, creating a jumble of blind angles and six-dimensional intersections, crowded at times with women shopping for melons, and motorcycles hauling bales of mint. But all of that could evaporate in an instant. Once, I turned a corner and found nothing but a rectangle of concrete where a house formerly stood, as if a giant child had simply plucked it from the urban fabric.
With nothing on my agenda, I took things as they came. If I happened on an orange-juice vendor, I'd order a glass. When I spotted the dingy-but-welcoming Restaurant Victoria, I stopped in for bean stew and deep-fried sardines stuffed with garlic and parsley. When I came across a Moroccan man sitting on a curb with his curly-haired 11-year-old daughter and a pair of fishing poles, I paused to ask his views on fatherhood ("You have to be a professor, a magician, a singer, a dancer," he said) and see the catch of the day: a writhing octopus. Up in the Casbah, the walled fortress atop the medina, I walked into the Casbah Museum, where I violated one of my rules by studying a wall-size map of ancient Mediterranean trade routes.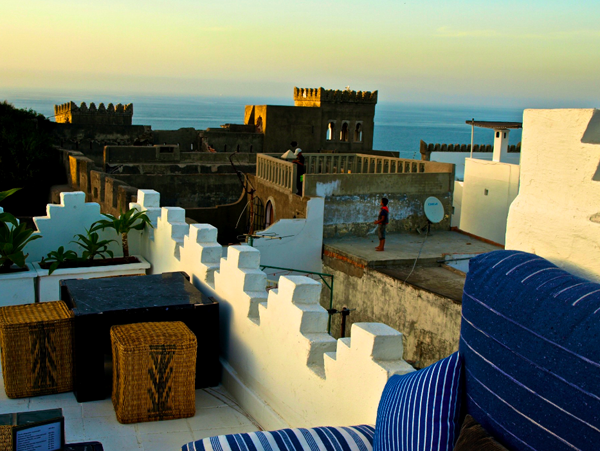 The Casbah was also where I began to indulge in my other favorite activity: sitting still. It was there that I found Le Salon Bleu, an open-air rooftop cafe where evening views — from the medina to the beaches on the bay to the hillside houses of the far suburb of Malabata — were unparalleled. Over mint tea or watermelon juice, I'd watch the headlands of Spain grow misty as the sun set and men in robes and kufis gathered on the plaza below to kibitz. One evening, on the patio next door, white-haired Westerners attended a dinner party, catered by waiters in stereotypical Moroccan regalia.
Each time of day had its perfect location for motionlessness. In the early morning, it was the Hotel Continental, a colonial-era hulk, crusty with age but maintained enough (fresh paint, free Wi-Fi, cheerful employees) to be comfortable. I'd wake up to high ceilings and a window that looked out to the old port, and then, lingering over coffee and croissants on the terrace, I'd think of the illustrious names of those who stayed here before me: Degas, Delacroix, Matisse, Kerouac. Before lunch, you could find me at a table outside Les Insolites, a bookstore-gallery-cafe on a quiet pedestrian street; after lunch, sitting at one of the half-dozen cafes outside the French Consulate — Gran Cafe de Paris is the classic, but Semiramis serves a better café noir — I watched everything from a Rolls-Royce with Dubai plates to a red Bugaboo stroller go by.
As much as I enjoyed staying in one place, I felt guilty. The writer in me (or maybe all that caffeine) wanted me out of my seat, in search of places that I could enter into the blog-driven machine of my former life. How could I just, you know, sit there?
But sitting had its uses. One afternoon, in the cafe of the Cinémathèque de Tanger, a restored art house showing Jacques Tati retrospectives and Egyptian indies, I heard my name: "Matt?" I looked up to find a young woman staring at me. Panic! Had I met her before? Was she an old friend whose name I'd forgotten? A flush of embarrassment hit as I stood to shake hands, but then she explained. She was Michelle Fan, a 22-year-old Chicagoan interning at the Cinémathèque, and she had recognized me from travel videos I had produced for The New York Times.
I think I recognized something, too. Behind her knowing smile and air of restraint, Michelle was an explorer. I had a partner in crime.
That evening we set off for Cafe Hafa, a renowned cafe that Michelle said she had visited. She led the way, which involved a 45-minute detour through the Casbah. Finally, we reached Marshan, a genteel neighborhood just west of the medina, where broad avenues ran past grandly decaying mansions and pristine palaces. The sun was heading for the Atlantic, and Michelle took us down one side road after another, none of which seemed to have Cafe Hafa at its end. We did, however, reach a vast Muslim graveyard shimmering in the golden hour, and a derelict house with luxurious gardens. Eventually, we asked for directions from the machine-gun-toting guards outside what we assumed was a royal residence, and they set us straight. Five minutes later, we were seated on one of Hafa's dozen terraces, sipping mint tea and gazing at the sea.
I quickly fell in with Michelle and her Cinémathèque circle. With her British colleague Claudia Lewis, we knocked on a black metal door in the medina and were welcomed into the old Jewish Cemetery, a clifftop field where stone slabs inscribed in Hebrew and Spanish testified to a nearly vanished community. With Sarah Ball, a ponytailed Mississippian, we walked through the port, crowded with fishing boats, to a row of restaurants where everyone (including us) dug into platters of thyme-steamed shrimp and fried fish with their bare hands. One afternoon we sneaked into the Gran Teatro Cervantes, opened in 1913 but now defunct, its stained-glass transoms and tiled walls still vibrant under layers of dust. On another occasion we wound up in Dean's Bar, once the haunt of Burroughs and his cronies, now the melancholic province of undistinguished drinkers like me.
Once, I found myself part of a group drinking beer and vodka at the Chellah Beach Club, a popular night spot. There was Florian Vetsch, the exuberant Swiss German translator for Paul Bowles, and Mr. Vetsch's wife, Bouchra, a Moroccan woman with all the heft and bluster of a Munich barmaid. A Korean woman named Sophia shifted between French, German and English in conversation with Aïch, a laid-back French photographer who'd just retired here. Me, I was listening to the live band segue from Miles Davis to salsa, and when I closed my eyes a pleasant feeling welled up. Wrapped in the music and the languages, with the crisp taste of pilsner in my mouth, I was on the edge of losing myself at last — until, once again, I heard a woman's voice:
"Are you sleeping?"
I opened my eyes. It was Sarah, the Mississippian, gazing at me curiously. Where had she come from? And how could I get back to where I'd (almost) been before?
Often, I wondered if I'd made the right decision in courting these new friends. I'd always imagined my quest as a lonely one — that only isolation could lead to revelation. And indeed, I'd come close on my own. One afternoon, I'd returned to Marshan and discovered a plaza, lined with Greek columns, that led to a cliff edge. Below lay a small neighborhood I'd never noticed before, and up from this tiny labyrinth came the frenzied beat of drums. Someone was getting married. I perched on the rocks, expecting the drummers to come into view. But though their beats swirled through the invisible streets, the musicians themselves never emerged, and at last I sank back on my heels and accepted the music for what it was: the rhythms of a place always just beyond my horizon.
It was fitting. Though I'd originally thought of Tangier as a lost city, I'd been wrong. It was where it had always been, on the cusp of two worlds, one known, the other a mystery. My Tangier-phobic friend had been right. This wasn't a city you went to, it was one you passed through, even if, like Paul Bowles, it took you all your life. I'd thought my goal lay through the gates of its medina, but like Achilles and the tortoise I'd spent more than a week merely marching closer. But it turns out Tangier itself is the gate, the starting point, and now, having wandered in its ageless corridors, I can proceed through to the other side — wherever that may be.
IF YOU GO
Even if you're trying to get lost, it's O.K. to have some touchstones. And don't worry, just because you have these addresses doesn't mean they'll be easy to find.
WHERE TO STAY
At Hotel Continental (36 rue Dar el Baroud; 212-5-3993-1024; continental-tanger.com) some rooms are better than others, so look before you leap; 595 to 800 Moroccan dirhams a night, about $70 to $95, at 8.45 dirhams to the dollar.
Riad Tanja (Rue du Portugal, escaliers américains; 212-5-3933-3538; riadtanja.com) is a beautiful traditional house turned into a hotel and restaurant. The rooms start at 800 dirhams per night.
WHERE TO EAT AND DRINK
Le Salon Bleu (place du Casbah, enter at 71 rue Amrah; 212-6-5432-7618) has a few food items, from 25 dirhams.
Les Insolites (28 rue Khalid Ibn Oualid, 212-6-4689-0001; librairielesinsolites.tanger.over-blog.com).
Chellah Beach Club (Avenue Mohammed VI, opposite Avenue Beethoven; 212-5-3932-5068).
Darna (rue Jules Cot, near the Place du 9 Avril; 212-5-3994-7065; darnamaroc.org) is a women's center that operates a peaceful courtyard restaurant. The two-course lunch menu is 60 dirhams, without drinks.
El Dorado (21 Rue Allal Ben Abdellah; 212-5-3994-3353) is a classic restaurant serving Spanish-Moroccan food. Expect to spend 120 dirhams per person, not including drinks.
WHAT TO DO
Cinémathèque de Tanger (Place du 9 Avril; (212-5-3993-4683; cinemathequedetanger.com).
American Legation Museum (8 Zankat America; 212-5-3993-5317, legation.org) was the United States' first overseas consulate and is now a free museum.
MATT GROSS, the former Frugal Traveler, writes the "Getting Lost" series for the Travel section. This is his first installment.
A version of this article appeared in print on September 12, 2010, on page TR1 of the New York edition.